Web Application Penetration Testing
See how your web application fares against realistic attacks. We find exploitable vulnerabilities and provide practical recommendations on how to fix them.
Rigorous manual testing tools can't replicate

Real attack simulation based on app logic know-how

Security checks from multiple users' perspectives

Only findings validated through exploitation
Performed by certified experts
What is web application penetration testing?
A web app penetration test is a type of security assessment that uses manual techniques to explore and test the target website for vulnerabilities like Cross-Site Scripting, SQL Injection, Remote Code Execution, Broken Authentication and more. Unlike code reviews or static security testing, this type of assessment examines the target application in its live environment by simulating real attacks that cybercriminals carry out.
How much does it cost?
We price our service based on how complex the target application is and on what type of penetration test you want (black box or white box).
Black box
web app pentest
Expected
timeframe

3 working days (best effort)

Report
delivered

On the 4th day

Simulated
scenario

Anonymous attacker
Starting from:$2400+ $800/user role
Expected
timeframe

4+ working days (best effort)

Report
delivered

When ready

Simulated
scenario

Both anonymous & authenticated user
Why choose us
Our team of seasoned penetration testers collaborate on every engagement, providing a faster, more cost-effective service compared to other providers. We use our advanced technical skills in combination with the power of Pentest-Tools.com for unrivalled quality and value.
93%

Client satisfaction

15+

Years of experience

100+

Satisfied clients
What are the steps of a web app pentest?
Even if attackers lack the discipline of penetration testers, their approaches overlap in the tactics they use to ensure a thorough examination of the target website. Our team uses the OWASP Testing Guide to make sure we cover as many security issues in the layers, functionality, and use cases of your web app as possible.

1
Scoping
Quickly map the attack surface of your target

Define what explicitly is not included in scope
2
Reconnaissance
Understand the regular functionality of the application

Discover hidden functionality
3
Vulnerability detection
Scan for vulnerabilities, both automated and manually

Manually triage and validate vulnerabilities, eliminate false positives
4
Exploitation
Try to exploit the vulnerabilities to determine the risk they pose

Create proof of concepts with step-by-step explanations to replicate them
5
Reporting
Explain all the findings and recommendations in the report
What the report looks like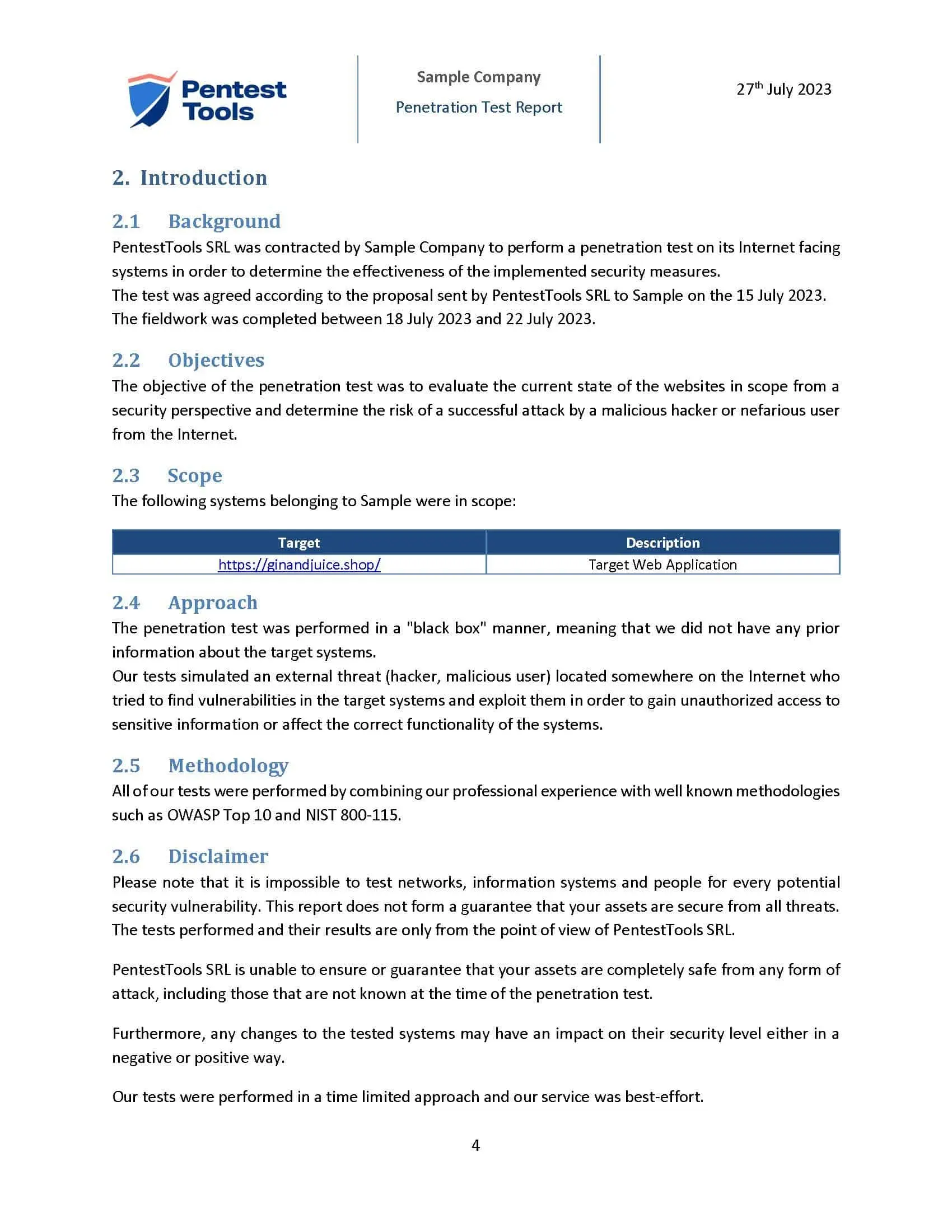 This is an overview of your assessment. It includes objectives, scope of work, and the approach and methodology we used.