Services
Penetration testing services for networks, mobile & web applications
Choose independent penetration testing services to get expert advice and guidance from our offensive security pros and reduce your exposure to cyberattacks
Get a solid, reliable evaluation of your networks, mobile and web apps
Transparent: know the process and penetration testing services prices from the start

Responsive: expect clear, smooth, and timely communication

Timely: get a thorough pentest delivered promptly, in 3 to 7 working days

Focused: we work on one client at a time, so you get our full attention and expertize

Summarized: reports include prioritized findings and a visual representation of risk

Actionable: receive detailed explanations of risks and recommendations for fixing the

Certified: work with offensive security pros who hold the most reputable certifications in the industry and have over 40 years of collective experience.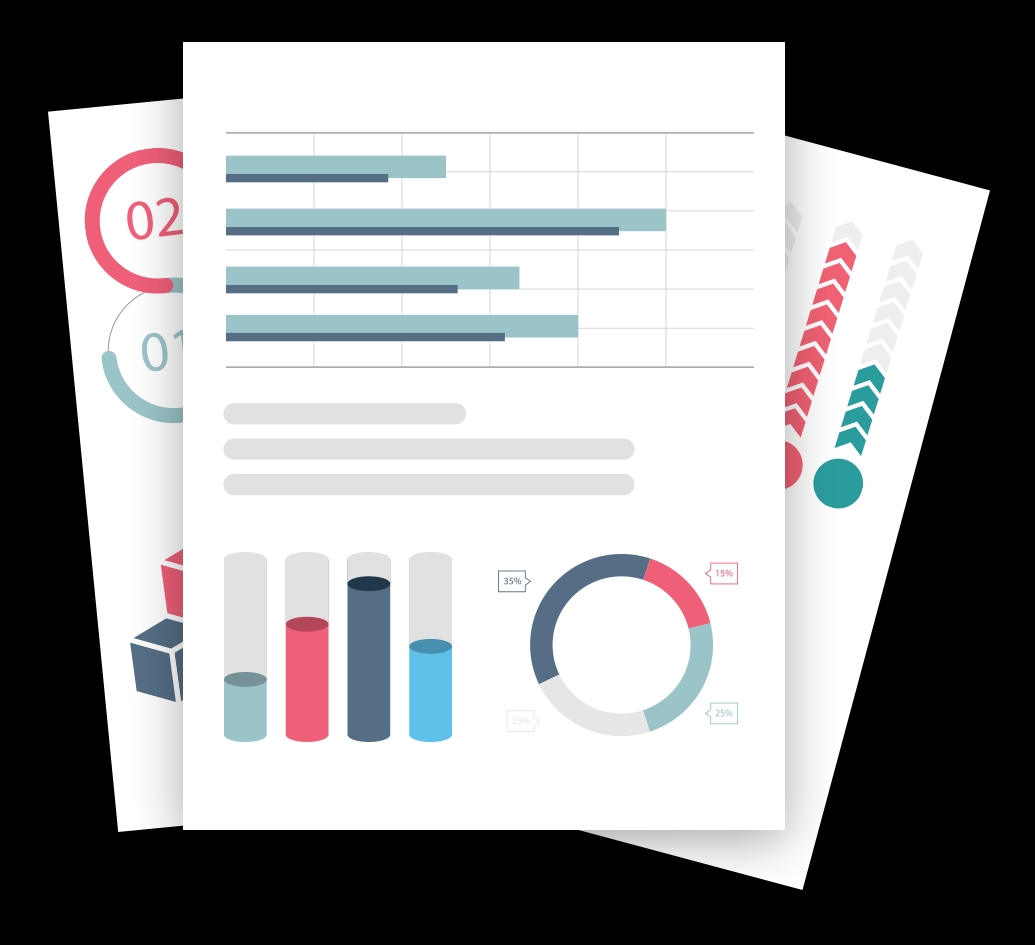 What makes us different
We ensure you make the most of your managed penetration test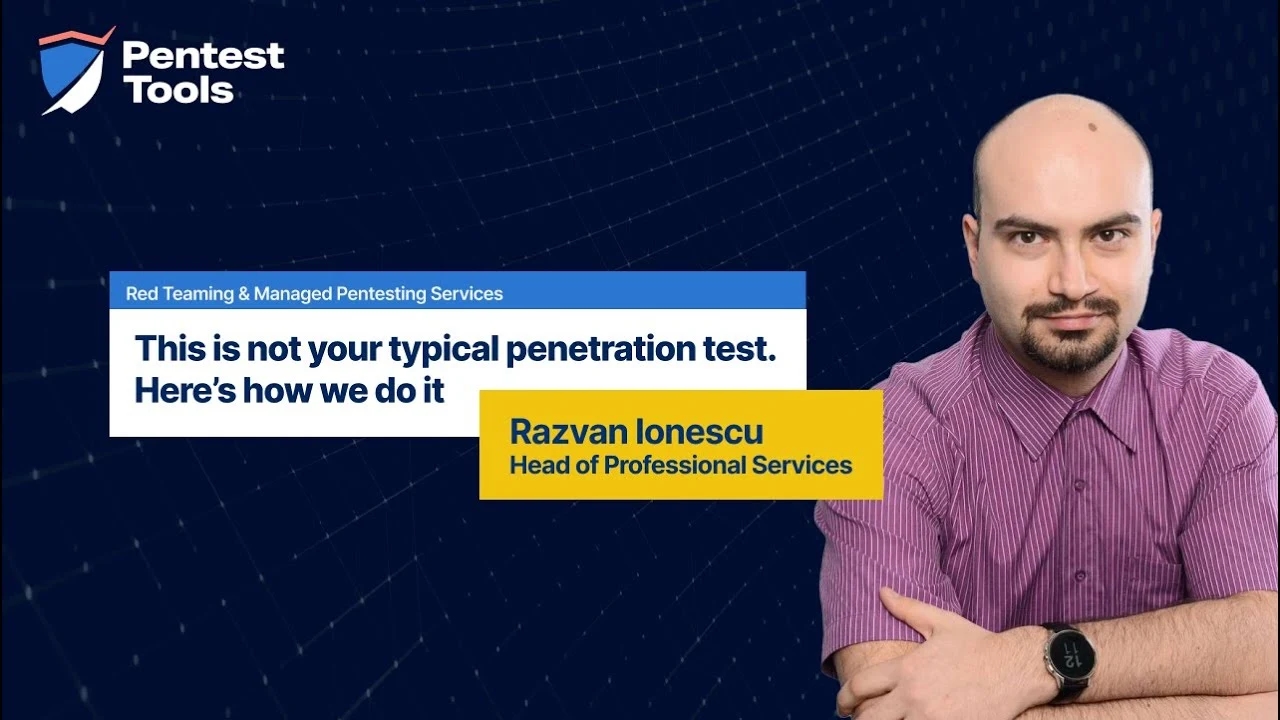 Cybersecurity auditors certified by the National Cyber Security Directorate










What we do
Extensive penetration testing services
Network penetration testing services

- we go in depth to discover critical vulnerabilities such as Log4Shell, ProxyShell, ProxyLogon, business logic risks, and other exploitable issues that form your Attack Surface, offering clear guidance to fix them

Web application penetration testing services

- we test the entire range of web apps, from simple to complex ones (e.g. expansive eCommerce websites), to identify high-risk issues that lead to sensitive data exposure and other OWASP 2021 security risks

Mobile application penetration testing services

- we evaluate client-side and backend server security and functionality to identify insecure data storage, insufficient transport layer protection, and many more high-risk issues

API penetration testing services

- we check your API(s) for security problems affecting methods and data, including authorization and authentication flaws, data exposure, rate limiting issues, security misconfigurations, and more

External penetration testing services

- we mimic a malicious hacker's behavior to reveal which web app security issues and weaknesses in your infrastructure can give them a foothold in your systems and the chance to harvest confidential data or more

Internal network penetration testing services

- we demonstrate what an attacker with internal access can do and provide a full list of weaknesses that expose your company

Remote penetration testing services

- we deliver vulnerability assessment and penetration testing services remotely, to any company in the world, through our thorough testing methodology and full arsenal of pentest tools that our team builds and maintains

Compliance penetration testing services

- we provide certified, independent security testing services and thorough reports to help you comply with standards such as PCI DSS, SOC II, HIPAA, GDPR, ISO, the NIS Directive

Black Box and Grey Box penetration testing services

- we accommodate both pentesting approaches and can recommend the most effective one for your goals, whether they're focused on compliance, improving your security posture, or demonstrating security controls and policies during business transactions.
Client satisfaction

93%

Years experience

10+

Satisfied clients

4000+
What you get
Why choose our managed pentesting services
Time and cost savings

Traditional pentesting involves lengthy negotiations, approvals, talks with the purchasing department and so on. We don't make you go through that. Our process is straightforward, transparent, and effective.

Quality service delivery

We provide high-quality penetration services for companies that want results faster than the traditional method. We achieve this by combining our technical expertise with our fully-fledged platform of 20+ security testing tools and automation features.

Comprehensive, detailed reports

Excel at reports with our help and save valuable time in your security testing projects. Each report provides an accurate security posture of your systems, with proof, vulnerability details, and remediation advice to improve.

A roadmap for your security program

Through our security assessment, we provide insights, guidance, and a list of prioritized security vulnerabilities (with zero false positives) to tackle so you can improve your resilience against motivated attackers.
Price
Starting from$2400Per target (web app, network, mobile app, API, etc.), based on architecture
Fairly priced

Instant contracting

3-days assessment

Report in 48 hours

Certified experts

Full reporting

OWASP Top 10 included

No false positives
Why customers choose us for their penetration testing projects
How it works
What our managed penetration testing workflow includes
Request a managed penetration test
Contact us by filling in the form with all the required details to request a pentest instantly, with flexible, transparent pricing, clear steps, and actionable deliverables.
We'll get back to you in 24 hours with all the details you need to get started.
Define the scope and goals of the managed pentest
This is where you provide us with specific, relevant information about your objectives:
What the focus of your pentest is: website, network, mobile app, API, etc.
Short description about the test target's usage and purpose (if it applies).
Web app or Mobile app penetration test
Specify which pentesting approach you require: black box or grey box. For grey box pentests, let us know how many user roles you need us to test.
Network penetration test
Please include the number of IPs to be tested and let us know which approach you want: black box or grey box.
API penetration test
Mention an estimated number of endpoints and methods you would like us to test. If possible, point us to your API documentation.
Receive a clear proposal from our certified pentesters
When you contact us for a managed penetration test, our team carefully analyzes your business needs and context to draft a customized proposal that fits your goals.
Along with the offer, we also send you a payment link to expedite the admin part and get to the core of our collaboration.
Confirm payment or ask for adjustments
If you agree with our proposal, you send us a payment confirmation so we can plan together when to start testing your systems. If you want to re-evaluate the initial proposal, feel free to send us feedback and we'll make the final adjustments you need.
Start the penetration test on the agreed upon date
Throughout the entire process, you're always in control and in the know. The offer includes the full details of what we will test and for how long. And, before we begin the actual testing, we notify you via email of the start date and time.
Get an actionable and reliable penetration test report
We provide you a detailed and actionable PDF report which includes all the elements you need. From the executive summary to detailed findings, you receive easy to understand findings and recommendations to replicate and fix your vulnerabilities in the order their risk level dictates.
We offer one free retest per penetration test. You can request it during the 6 months following the initial penetration testing report you received.
[Optional] Request an additional retest
If you want us to generate a new report containing either the remaining Not Fixed vulnerabilities, or all the vulnerabilities having their Re-Test status set (Fixed / Not Fixed / Partially Fixed), this involves an extra cost of $800 + VAT, which you can pay via the payment link we provide.
Request a professional penetration test
Fill in the form and hear from us in 24 hours.
Client Requirements
You must have explicit permission to have a penetration test performed against the target system.
If the system is on a server you share with other web app owners, you must notify the service provider and get their permission.
We highly recommend having a working backup of the target system. The probability of anything bad happening is very low, but you should know that penetration testing is inherently intrusive and there is a small chance the assessment could negatively impact the target system.
Pentest deliverables
Detailed penetration testing report with manually verified findings and recommendations for fixing the uncovered issues.
Clarifying questions answered via email in 48 hours.
Average test duration: 3 days per target.
Communication with the pentest team was smooth and easy
We really enjoyed working with Pentest-Tools.com.

They are very professional; everything was done smoothly and in a timely manner. Every deadline was met. Communication with the pentest team before, during and after pentesting was smooth and easy.

The final report sent was precise and concise and allowed us to make beneficial changes to our application.
Ready-to-use reports
What your managed pentest report includes
Report structure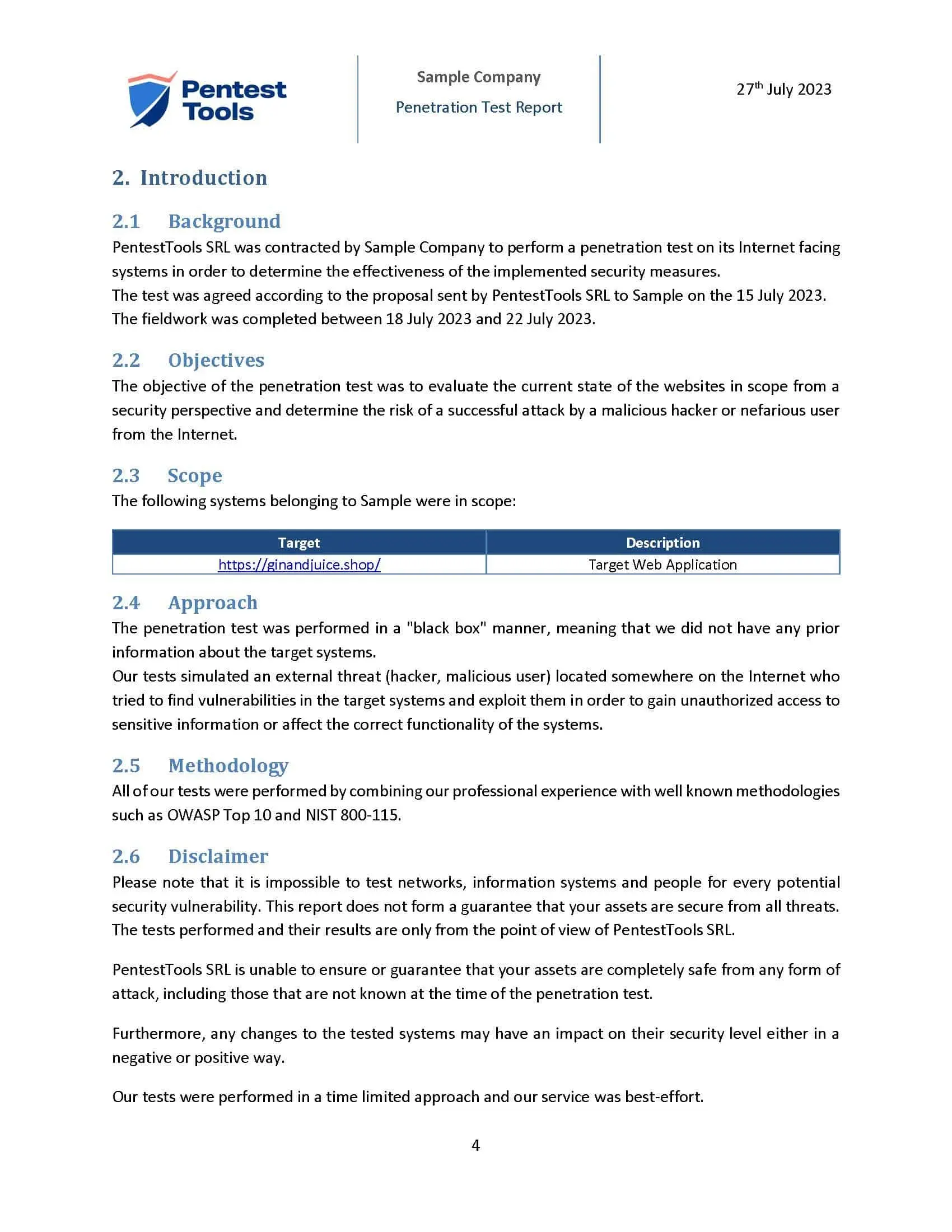 The report allowed us to address issues quickly and effectively
The process of setting up and conducting the penetration test of our software was simple, clear and understandable.

The report we received was clearly written and the examples provided allowed us to address issues raised quickly and effectively.

The free retesting offered on failed tests allowed us to act confidently, so we could be sure our fixes had been successful without incurring additional costs
Who we are
Meet the pro pentester
who manages our services team
Razvan Ionescu, Head of Professional Pentesting Services
I'm a Senior Security engineer of 10+ years, 5 of which I've spent focusing on penetration testing by combining my technical expertise with communication abilities to deliver thorough pentests that customers actually act on. I also enjoy giving presentations for the infosec community as a way of contributing to cultivating cybersecurity talent.
Leading our team of penetration testers gives me the opportunity to leverage the Pentest-Tools.com platform that my colleagues build to get customers the results they need in the shortest possible time. This is paramount for us given the number of critical vulnerabilities that overwhelm companies and their IT and security teams.
My team and I find it deeply rewarding to help both international brands and local businesses understand their exposure and know how to approach and solve their most pressing security issues – all at a more effective cost than the pentesting traditional approach.
We were absolutely delighted
We were absolutely delighted with the experience.

Good communication and actionable results delivered. We'll be happy to recommend you as trusted partners for this service.

We again thank you and your team for providing us with a great service.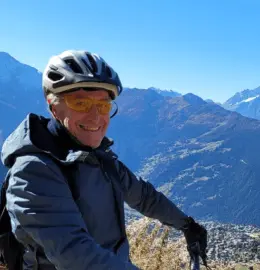 John Keith
Co-founder and CTO
at Lucid Meetings
Total peace of mind
The added benefit being that you undertook follow up testing on our hostnames after our developers had completed the system enhancements at no additional cost giving us total peace of mind.

Dealing with you was a pleasure as your experience and professional approach to business is reflected in all our correspondence making our decision to work with you an easy one.

We will be using your services on an annual basis going forward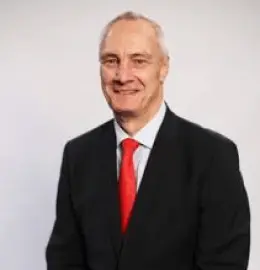 The answers you need
Managed penetration testing FAQs we receive
Our team of offensive security pros who perform the managed pentest services have proven experience in the field and top security certifications:
Cybersecurity auditors certified by the National Cyber Security Directorate