Milestones
Why we continue to support young people find their way in infosec
Publisher

Pentest-Tools.com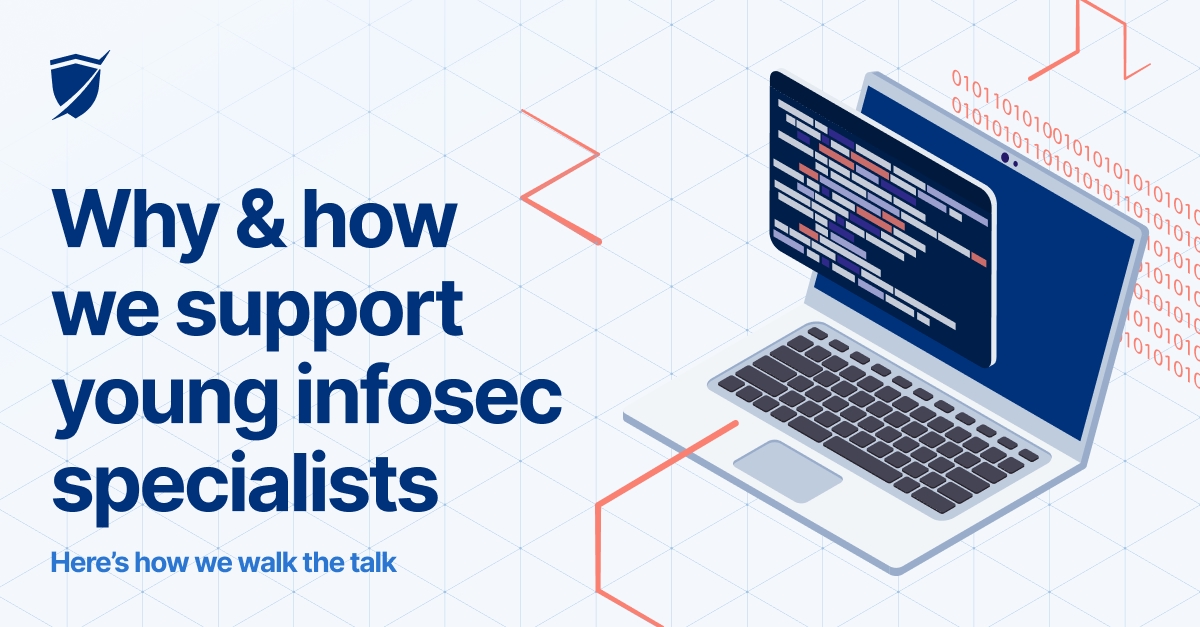 Lifelong learning, constant practice, and the need to share knowledge and ideas with others are the reasons that got us in the infosec community.
Because we all try to do our best in the work we do and have a positive impact on our field. And for that, we need to remind ourselves to stay engaged and always practice what we preach.
At Pentest-Tools.com, we constantly invest in students by providing them access to learning opportunities through internal activities. We challenge them to cultivate their infosec skills through our Hacking Day initiative or spark curiosity to better understand the industry by sharing the News of the Week.
We hire them through our internship positions and facilitate relationships through mentoring sessions with senior colleagues. They get a chance to apply the technical knowledge they learn at school and perform specific tasks on the job to cultivate industry awareness.
We also provide the tools they need to showcase their best work and gain as much practical experience as possible. Case in point, our Google Dorks are free to use!
The Pentest-Tools.com team during an Agile training course (in the "before the pandemic" times) 
We believe educational programs and constant practice are the backbone of young talent to pursue a successful career.
Being part of a community of generous people is also essential to build a good, rewarding career and cultivate the essential skills for it.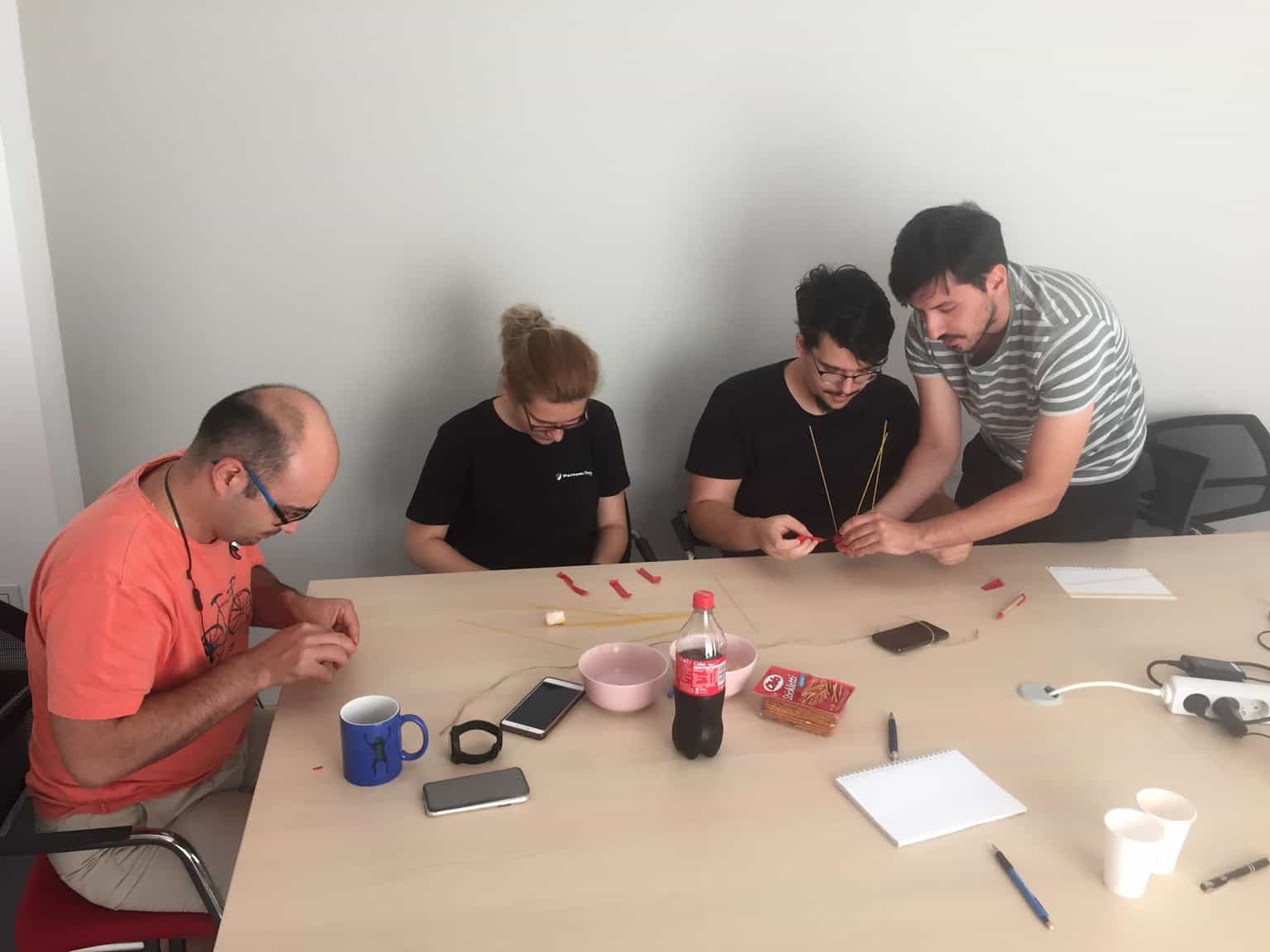 Our colleagues working on the Marshmallow challenge (we miss doing this live!) 
Determined individuals can do that by joining Capture the Flag (CTFs) security competitions that are rewarding experiences packed with engaging challenges, fun puzzles, and valuable learning opportunities.
How we walk the talk
That's why we teamed up with our friends from CyberEDU to support their upcoming UNbreakable ethical hacking national competition.
UNbreakable Romania #2 is powered by Bit Sentinel in partnership with Orange Romania and takes place between December 15th -16th.
The national competition is for high school and college/university students an excellent opportunity to test and enrich their know-how, solve interactive cybersecurity quizzes, and understand vulnerabilities in-depth in a controlled environment. All of these for FREE.
Are you ready to become UNbreakable? Register for free to the CyberEDU platform and be ready to gain awesome experience (plus substantial prizes)!
Looking back to Innovation Labs as 2017 Alumni
Innovation Labs, the largest pre-acceleration program in Romania, is another educational program we strongly support and encourage the young generation to join in. This enriching experience helps you develop the entrepreneurial, learn the basics of a startup, and get access to amazing mentors from the startup ecosystem and ICT industry.
We know this from hands-on experience because we went through the program in 2017 and won the Grand Prize, which was a recognition of our long-term work and effort in a project we truly believe in.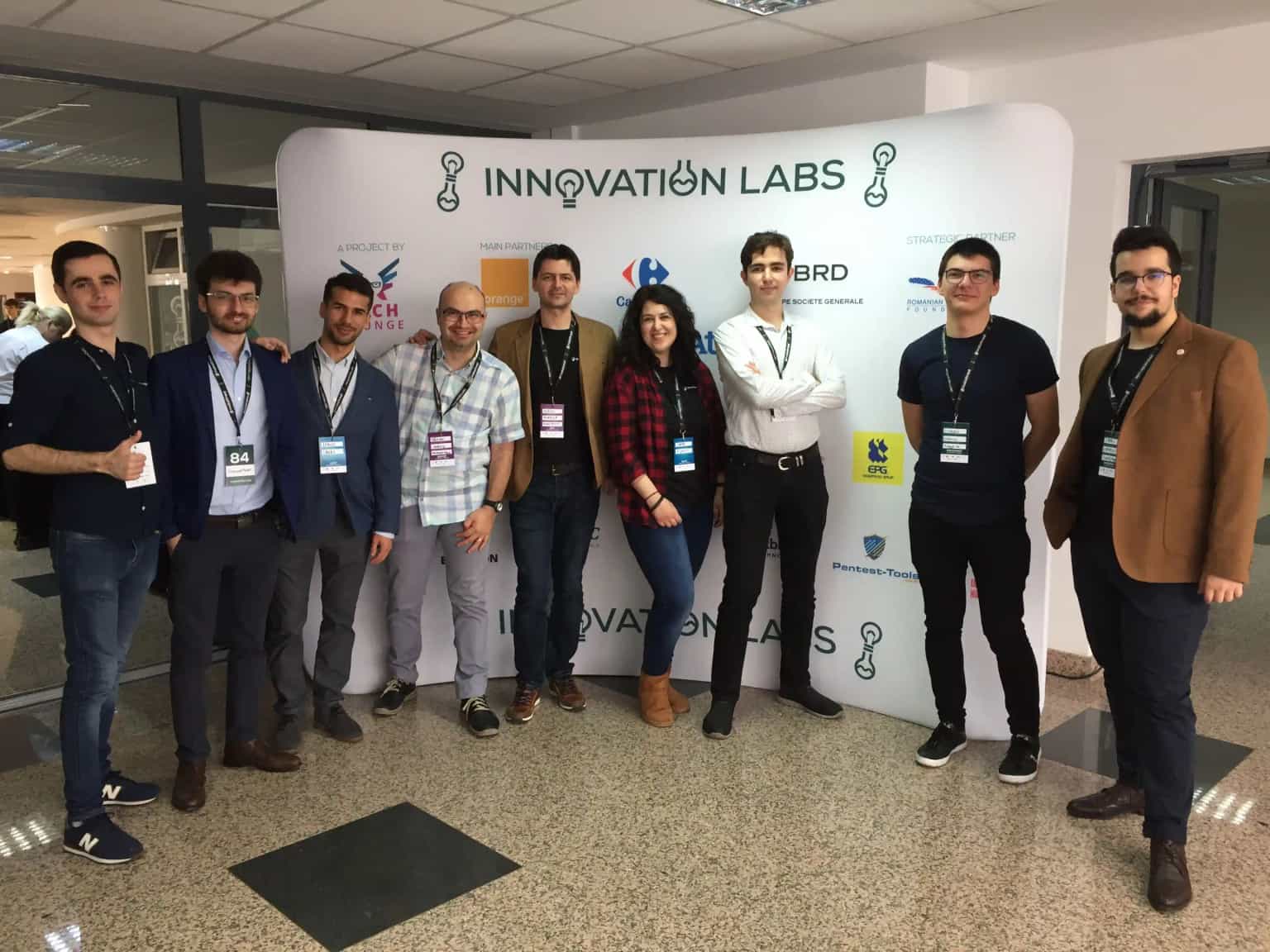 Part of the Pentest-Tools.com team at the Innovation Labs [February] 2020 Bucharest Hackathon 
Joining the pre-accelerator program helped us build awareness for our platform and services on the market as an early-stage tech startup. During 3 intense months, we got full support from tech mentors and business owners with years of experience and access to valuable insights to speed up what we were doing.
The program also taught us the skills required for running a business, including sales, finance, and how to better communicate with our target audience. Mentors helped us understand the risks and complexity that develop in time and guided us in the right direction.
The continued support we receive long after the program ended and the nurturing relationships we have with the community speak to how helpful and valuable Innovation Labs is.
Our mission is to make Pentest-Tools.com a must-have for our customers' security testing toolstack and help them better identify critical vulnerabilities in their systems.
Here's how the program looks through our colleagues' eyes. Cosmin, one of our Software Developers, says that:
Innovation Labs is a truly rewarding experience I highly recommend! It's all about the people and their energy to support others to make things happen! I met exceptional mentors in this program who taught me valuable business lessons. It helped me better understand the startup ecosystem and enrich my cybersecurity know-how and skills. You can't learn these things from reading books!
Eusebiu, our Senior Software Developer, also shares his piece of advice:
Through this program, you'll dive deeper into the startup ecosystem and get access to lots of helpful resources and knowledge. The guidance comes from people with years of experience, from both failed and successful startups, that will guide you and learn the skills required to better tackle real-life problems.

If you ever think about starting your own startup, but you are waiting for a brilliant business idea to come, my suggestion is to join Innovation Labs and the experience will definitely shape the way you think about startups.
Innovation Labs aims to nurture new generations of young entrepreneurs in Romania and support their innovative business ideas with a positive impact on the community.
This program is also the perfect place to get valuable insights from the startup community by being exposed to a wide range of perspectives and approaches.
This year, Adrian Furtuna, our founder and CEO, is a member of the jury for the Innovation Labs Finals, where the Demo Day Space Edition happens on 𝗢𝗰𝘁𝗼𝗯𝗲𝗿 𝟭𝟱𝘁𝗵.
I know from experience that Innovation Labs puts tenacious individuals in an ecosystem that challenges and supports them to build solutions with a truly positive impact.
If you want to join in and support the 16 finalist startups, check out the details.
Why you should join these programs
Educational programs are extraordinary experiences for motivated learners like you who want to kickstart your infosec career journey. Enrolling in these competitions benefit you in many ways.
You gain a deeper understanding of the industry and broaden your perspective with new knowledge. You get to explore new territories and put out your skills to test while enriching your know-how.
It is also a great opportunity to play with specific tools and vulnerabilities, break stuff, and better understand the context they operate in a playful environment that allows it.
And it's really wonderful to know you can experience this with people like you, who share the same passion for cybersecurity.
We know that working in cybersecurity is a never-ending learning and development process that helps each of us become better professionals and human beings.