Penetration Testing Automation Tools
Make your pentesting arsenal work for you and put 80% of your workflow on auto-pilot
Automation tools to fast track engagements
We believe automated tools can never replace skilled pentesters. So we built features that automate the stuff you need, but don't like - repetitive tasks, waiting times, and manual steps.
Custom automation options

Built by pentesters for pentesters, Pentest-Tools.com gives you full, granular control over automation features.

Workflow continuity

Remove fragmentation and delays from your workflow with smooth chained scans, exploitation, and reporting.

Shared Workspaces & Items

Give team members access to templates, findings, reports (and more!), and coordinate tasks for faster, better engagements.
What is penetration testing automation?
Continuous penetration testing is a necessity, so many tool makers are trying to automate the entire process to make it scalable. Except you can't. Not if you want to do it right. Indiscriminate automation can do more harm than good, so we're taking a different route.
Minimize repetitive work

What's keeping pentesters from doing their best work? Waiting for scans to finish, moving data around, updating tools, etc. We use automation to give them their time back.

Work with greater focus

Spend more time on tasks that add value for your customers: discover custom attack vectors, chain vulns, pivot, adapt exploits or build new ones. You now have time for it!

Reuse your best work

Save and reuse your best finding descriptions, risks, and recommendations. Turn them into custom templates to share with the team so they can deliver on time and on point.
Start using the platform today
Unlock the full power and features of our platfom!
Compare pricing plans and discover more tools and features.
Why should I use pentesting automation in my engagements?
If you believe working smarter, not harder is the best way to develop your expertise and advance your career, then we have your back.
With our automation tools for penetration testing, you get to apply your knowledge and expertise at scale.
Personal Gains
More time for creative, rewarding work

Stronger focus on complex vulns

Less draining manual work
Business wins
Fast ROI (Return on Investment)

Works for senior and junior pentesters

Process consistency across teams

Scalability at every business stage

Compliance-ready audit trail
Start a pentest in 3 minutes (seriously)
To be able to log in and start a pentest in just 3 minutes is really good. Then to automate it and build a library of PenTests are all great features. Instant engagement is the best thing about the platform, also pricing. Compared to other automated pentesting platforms, this one is impressive and accurate.
At a glance
How (almost) automated pentesting makes your life easier
Not sure if our flavor of automation is right for you?
We made a list to help you decide:
Comparison between manual penetration testing and using automation tools for pentesting

| The usual manual penetration testing flow | Our built-in automation tools for pentesting |
| --- | --- |
| A security specialist performs the pentest to get reliable results that go beyond generic findings and recommendations. | Security teams share access to pre-built flows which allows even juniors to run tests – and learn in the process (e.g. automatically start follow-up scans based on specific findings. |
| The pentester must chain and maintain a diverse and disparate set of tools (free and paid). | The pentester uses a platform that integrates all the tools they need for the engagement, including automation for repetitive, time-consuming tasks. |
| Methods, results, and reports vary from one engagement to the other because each pentester has their own process and toolset. | Ensures top quality results for every engagement because teams get access to the best templates for scans, findings, and reports – plus VPN profiles, wordlists, pentest robots, and more. |
| Involves painstaking work, repetitive tasks, a fragmented workflow (e.g. waiting for a scan to finish to start another), and a lot of patience. | It's a lot faster and more effective because tools and options are combined based on pentesting logic and customized for specific testing approaches. |
| It's fully customizable (through manual tweaks) and gives the pentester complete freedom to get creative… if they have enough time left. | The penetration testing automation tools in our platform remove up to 80% of manual work, creating invaluable time for pivoting, post-exploitation, and other creative tasks. |
Start using the platform today
Unlock the full power and features of our platfom!
Compare pricing plans and discover more tools and features.
Which parts of my pentesting workflow can I automate with Pentest-Tools.com?
Full pentesting workflow
Report templates for web & infra

No waiting times between scans - successive scans start automatically based on conditions you set or included in templates and pentest robots

Scan scheduling & scan completion alerts - no manual check-in required
Reconnaissance
Scan templates: Asset Discovery, Quick TCP Port Scan, Full TCP Port Scan

Pre-built pentest robots: Domain Recon and Treasure Hunter (for both domains and hosts)

Data automatically aggregated in the Attack Surface view
Vulnerability Scanning
Scan templates: Quick Network Vulnerability Scan, Full Network Vulnerability Scan, Passive Website Vulnerability Scan, Discover Hidden Files on Web servers, Full Website Vulnerability Scan, WordPress Scan, Weak Password Checker

Pre-built pentest robots: Website Scanner - All Ports and Full WordPress Scan
Exploitation
Pre-built pentest robot: Auto HTTP Login Bruteforcer

Build your own pentest robots with drag & drop to chain tools and logic blocks that replicate your exploitation flow
Reporting
Reporting templates for a standard engagement, Website Penetration Test, External Perimeter Penetration Test, and 50+ types of findings

Fully customizable DOCX reports you can generate in a few clicks

Automatic pull for findings and data from 20+ tools with zero custom scripts

One-click export for findings in pre-formatted, eye-catching PDFs (or HTML)

Individual and aggregated reports just clicks away

Pre-filled data included in every template to help you avoid blank page dread
Automate and organize time-consuming work
All the process is very easy. They have predefined scans and automation, it can be useful for people who have little knowledge of security information. Also, you can create more advanced automation, the creation process is as simple as a mouse click.
Better

vulnerability discovery.

Faster

pentest reporting.
Get instant access to custom vulnerability scanners and automation features that simplify the pentesting process and produce valuable results. The platform helps you cover all the stages of an engagement, from information gathering to website scanning, network scanning, exploitation and reporting.
Pentest automation
for security teams
No matter how organized and experienced you are, there's still some overlap between tasks when you do pentests together. We've experienced it firsthand which is why we care enough about this to build solutions.
When you use Pentest-Tools.com with your team, every step you automate and every template you use or build saves time for everyone.
If pentesting automation saves you 2h/week/team members, it's enough to multiply that by the number of people you work with to see the potential for improvement.
Better coordination, less overlap, more reusing everyone's best work, a lot less maintenance - you can get all that and more.
How are Pentest-Tools.com features different from other automated tools in pentesting?
You retain full control over testing stages and logic. You know what you need better than anyone so we made Pentest-Tools.com flexible enough to accommodate your logic and approach.
We don't automate the whole pentesting process (because that's unrealistic). Instead, we built automation steps that focus on eliminating repetitive tasks you can't do without.
We don't aim to replace humans. Our goal is to develop penetration testing automation that makes them exponentially more effective so they have more time to learn or just rest.
We keep things simple, realistic, and transparent. No, we don't use AI but we did build our own RPA (Robotic Process Automation) for pentesting and our own automatic exploitation tool.
Start using the platform today
Unlock the full power and features of our platfom!
Compare pricing plans and discover more tools and features.
What else is there?
Compare Pentest-Tools.com
How do I start using penetration testing automation tools on Pentest-Tools.com?
If you're ready to automate as much as 80% of your pentesting tasks so you can focus your expertise on the 20% that makes all the difference, here's how to get started.
Choose a plan that includes access to our pentest robots.

In your dashboard, go to Targets and choose Scan with Robot, selecting the pre-built robot that suits your needs.

Sit back and watch it do your work for you, as Findings accumulate in your dashboard and your Attack Surface view starts to develop.

Or go to Tools and choose Sniper Automatic Exploiter to validate vulnerable targets and get solid proof of exploitation in just a few minutes!
Not sure if RPA for pentesting is for you?
Watch this walkthrough by our founder, Adrian Furtuna, from our launch at Black Hat Europe 2020: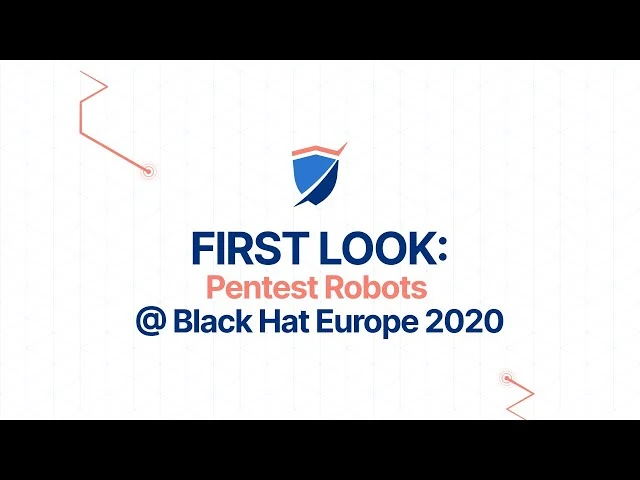 What are the limitations of penetration testing automation?
Automation is certainly not the solution to all your problems but it makes the task load a lot lighter. There's a limit to how much thoughtful automation can mimic human actions in penetration testing work – and that's a good thing.
This gives you control and keeps automated actions contained to the testing stages and tasks you choose.
We are constantly improving the capabilities of Pentest-Tools.com with richer, stable, reliable automation options, so keep an eye on the monthly platform updates we deliver.
Changelog
Latest Pentest Robots updates