Features
Improve productivity and collaboration with
Shared Items
With Shared Workspaces & Items, you can easily manage your pentesting and vulnerability assessment workflow with your team. This allows you to:
See a complete list of team members, granted permissions, wordlists, and other resources that will give you an overview of the whole process.

Give differentiated access to workspaces among sub-users. You can select No access / Read-only / Full access for your collaborators.

You can also change the access to other resources to No access / View / Edit.
Key features
Workspace & items sharing across your entire workflow
Scan Templates

Pentest Robots

Finding Templates

Engagements

VPN Profiles

Wordlists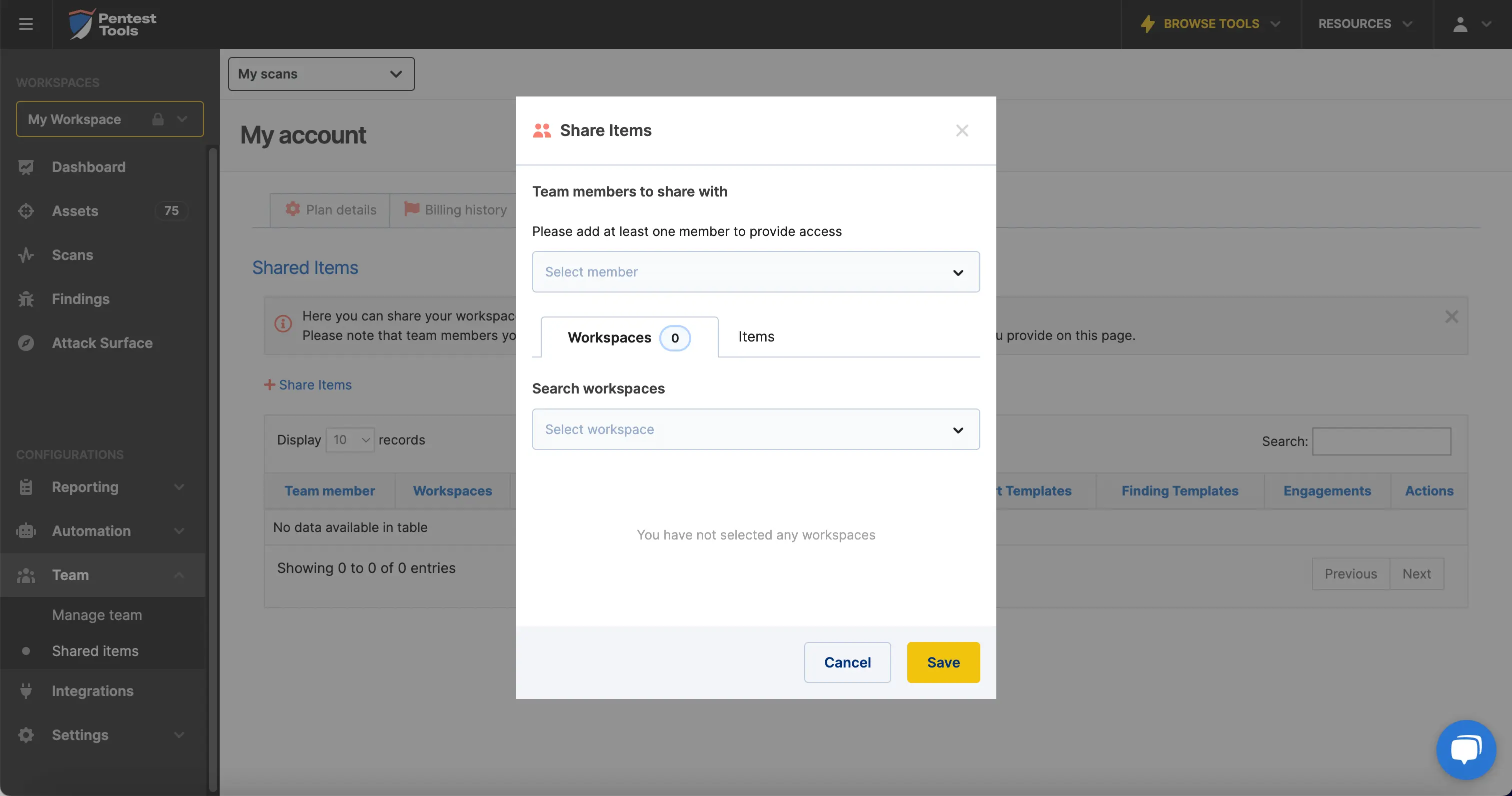 Flexible access rights you can change at any time
No access

Read-only

Full access
Coordinated tasks
No overlapping

Synchronize team members

Work on the same engagements

Save loads of time
Benefits
How using Shared Items transforms your pentesting workflow
Become a Teams customer and get access to the Pentest-Tools.com Shared Items & Workspaces plus everything else our platform has to offer.
Flexibility

Easy, flexible access rights based on team roles (No access, Read-only, Full access) + change them anytime you need to

Ownership

Clear ownership for each task performed on the platform

Onboarding & offboarding

Secure onboarding for new team members & offboarding for people who leave

Reduce risks

Reduce data loss risks based on differentiated access options

Access management

Restrict access to the most sensitive tasks to specific team members (no access)

Work sync

Smoother workflow with easy access to other team members' work (Read-only, Full access) that makes it easy to stay up to date

Synchronization

Team members can work on the same target at the same time

Cost optimization

Save on the number of targets attached to your plan (no need to add the same target into several workspaces anymore)

Visibility

See all configurations, templates, and reports experienced team members use and improve your own

Oversight

For managers: see your team's progress at a glance

Engagement Consistency

Share scan templates and pentest robots and ensure testing consistency across team members while speeding up engagements

Scalability boost

Serve more customers with a streamlined workflow and a library of Shared Items that build on your best work

Manual tasks & technical debt relief

Internal documentation that needs regular updates, team chats and email threads to coordinate on tasks, etc.
Our Teams customers already enjoy the benefits of Shared Items
With a Teams account, you can split your workflow across your entire team.
Secure collaboration
Enhance your team's workflows and allow them to
work together

more effectively

The Shared Workspaces & Items feature is finally here to help you grow your team, productivity, and business – and make the most of Pentest-Tools.com!

No more sharing credentials and fragmented workflows.

With this feature you can now improve collaboration in your team and boost efficiency:
Team members can work on the same target at the same time

No need to add a target to several workspaces anymore (use fewer targets from your plan)

Your best testing methods can become templates your team can re-use (and improve with rich customization options)