Speed up your pentests with
bulk scanning

for all your targets

Batch scanning tasks to optimize your pentesting workflow and save invaluable time
Scan multiple targets with a specific tool and automatically map their attack surface

Automate repetitive testing flows by bulk scanning targets with pentest robots or scan templates

Schedule scans for a range of targets for regular security assessments

Export aggregated reports for bulk scans with findings grouped by target or vulnerability
Getting Started
Work on multiple engagements at the same time with bulk scanning
Give your productivity a boost by batching or even automating tasks such as recon, Attack Surface mapping, and vulnerability discovery.
Bulk Scanning with Scan Templates

Scan multiple targets at once with one of our scan templates, including Asset Discovery, Full TCP Port Scan, Full Network Vulnerability Scan, Weak Password Checker, and more.

Bulk Scanning with Pentest Robots

Batch scan targets with ready-to-go, fully automated testing flows such as Domain Recon, Treasure Hunter, Auto HTTP Login Bruteforcer, and other pentest robots.

Automatic Attack Surface Mapping

Bulk scans pour findings into a centralized view of all the hosts, ports, services, technologies, and other information discovered about your targets.

Share Findings with your team

Use Shared Items to collaborate with team members by giving them read only or full access to templates, bulk scan results, aggregated reports, and more.
Work efficient
Coordinate tasks with your team to finalize engagements much faster
Start & stop is a nice piece of tech for cars but, in pentesting, it only breaks your focus and slows you down.
When you use the bulk scanning option on Pentest-Tools.com, it's not just time that you gain. The findings work for you, with automatic Attack Surface mapping and ready-to-export aggregated reports a couple of clicks away.
When everyone in your team can see and use findings and run bulk scans of their own, you deliver successful engagements much faster!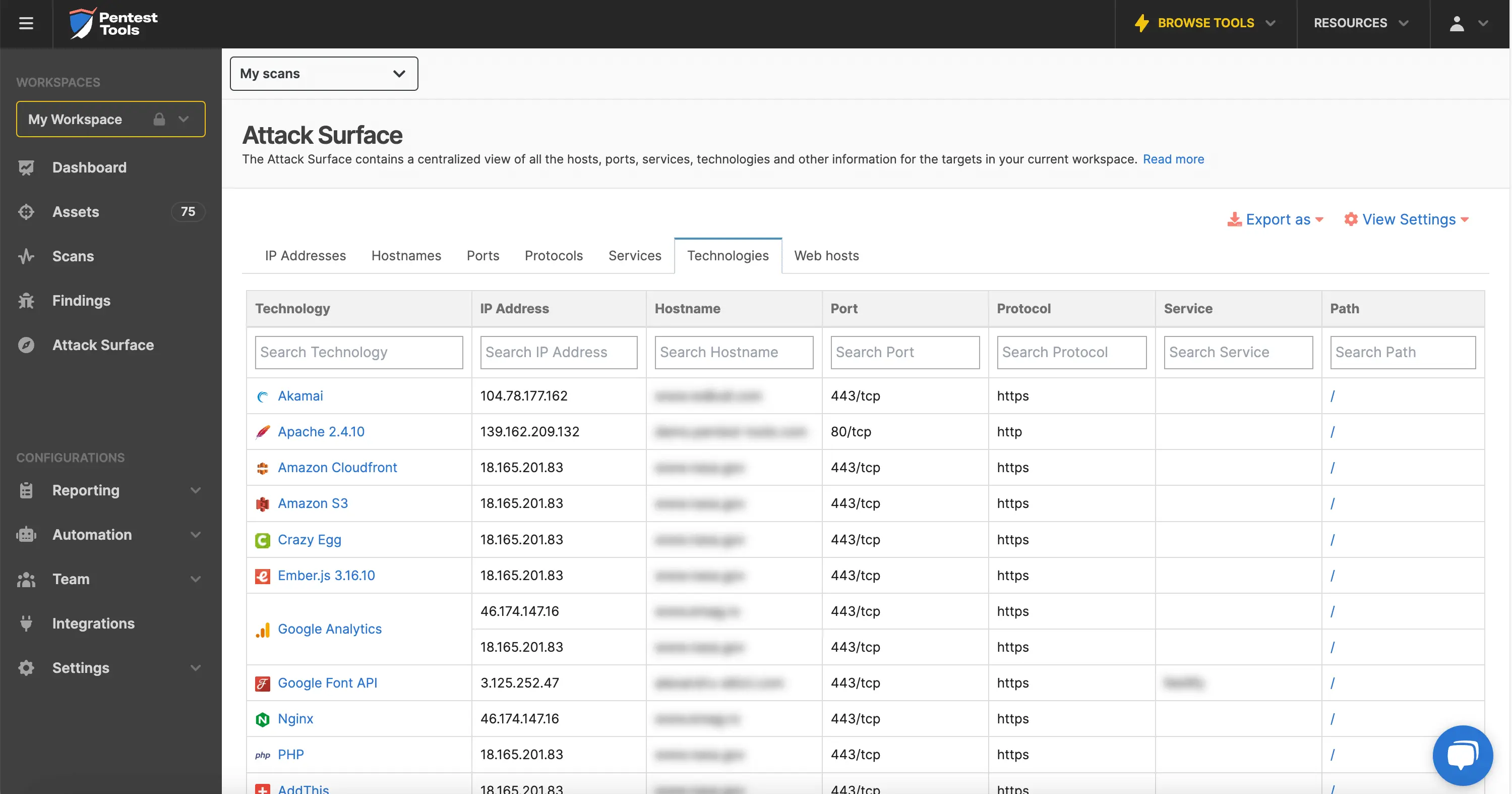 Make use of your effort again and again
Reuse your team's best work for future batch scans
Use our scan templates and pentest robots as inspiration to build your own.
When you combine our tools with your logic and turn them into reusable (and automated!) testing sequences, you give your team a major competitive advantage.
Use the time you save to do the things you don't have enough time for, whether it's training your team, improving your post-exploitation tactics, or polishing your skills through constant learning.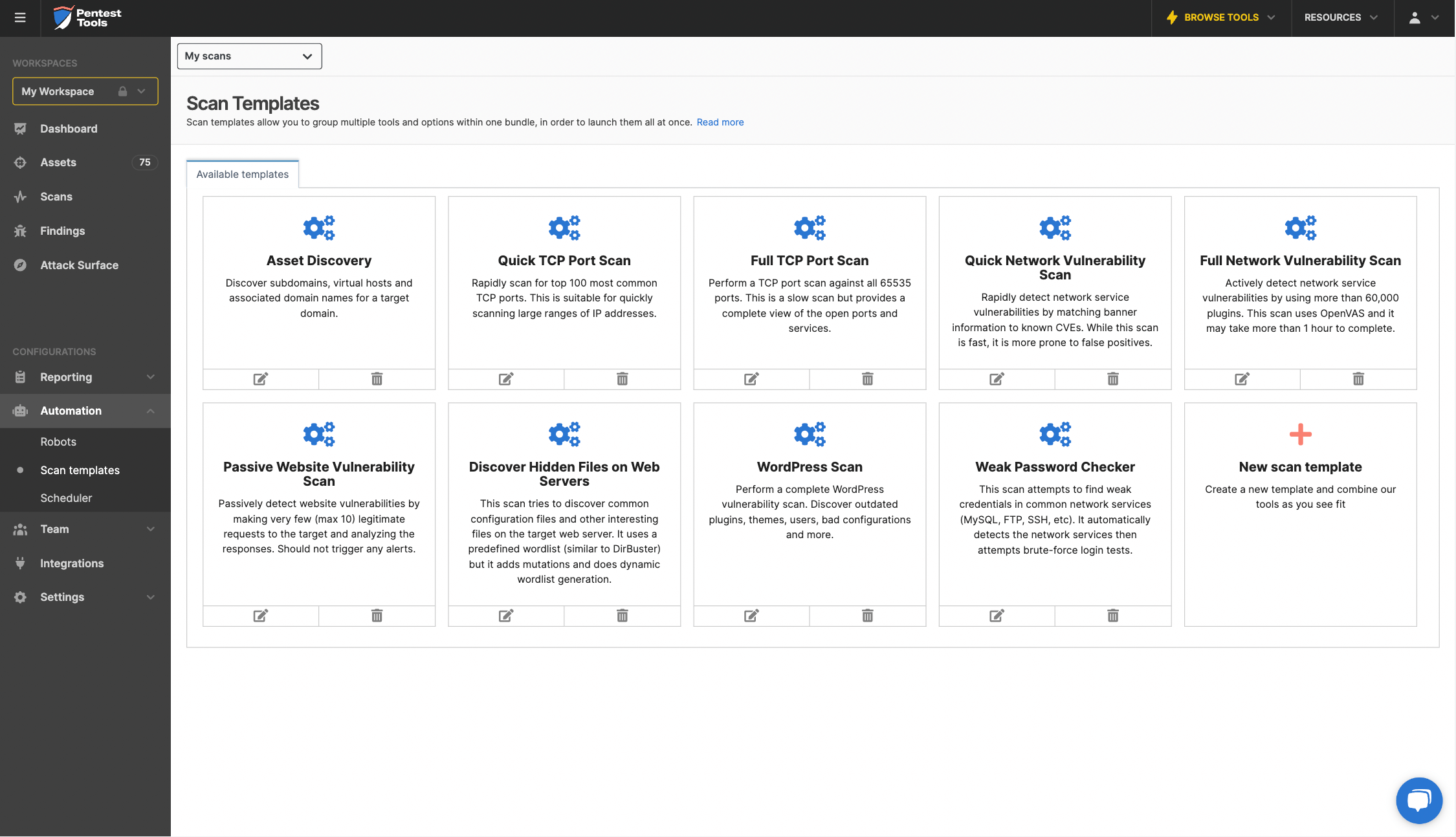 Easy to redo
Run re-tests in minutes with Scan Groups created after each bulk scan
Every time you run a bulk scan, Pentest-Tools.com automatically created a new Scan Group. Give it a good name because you can come back to it later when doing re-tests for engagements.
Scan Groups are also useful if you want to Stop or Delete multiple scans at once or if you're looking to export aggregated reports (PDF or HTML).