Discover Your Network's
Attack Surface
Automatically detect open ports, services, and running software from all your targets. Visualize all results in a central, unified view.
Find open ports that shouldn't be publicly accessible.

Automatically created from your tool scan results.
Key Features
Attack Surface View
And how it can help you have a general outlook on a system
In a network environment, all the entry points an attacker could use to access a system combine to create the Attack Surface. It also covers the ways an unauthorized user could send data to a web application and/or extract data from it.
In your Pentest-Tools.com dashboard, the Attack Surface includes a list of all IP addresses, hostnames, operating systems, open ports, services, technologies, and their versions from all your targets. Each workspace generates an Attack Surface specific to the targets in it.
How can a system's Attack Surface be represented?
See all the services open across the network perimeter in one place
Big picture view

Attack Surface pulls results from Pentest-Tools.com scanners to give you the big-picture, up to date view of your targets' open ports, services, and other relevant details.

Improve decision making

Quickly determine which currently open hosts, ports, services, and technologies shouldn't be exposed on the public network.

Save time

Get an instant overview with minimal manual work and no time spent aggregating data from multiple sources.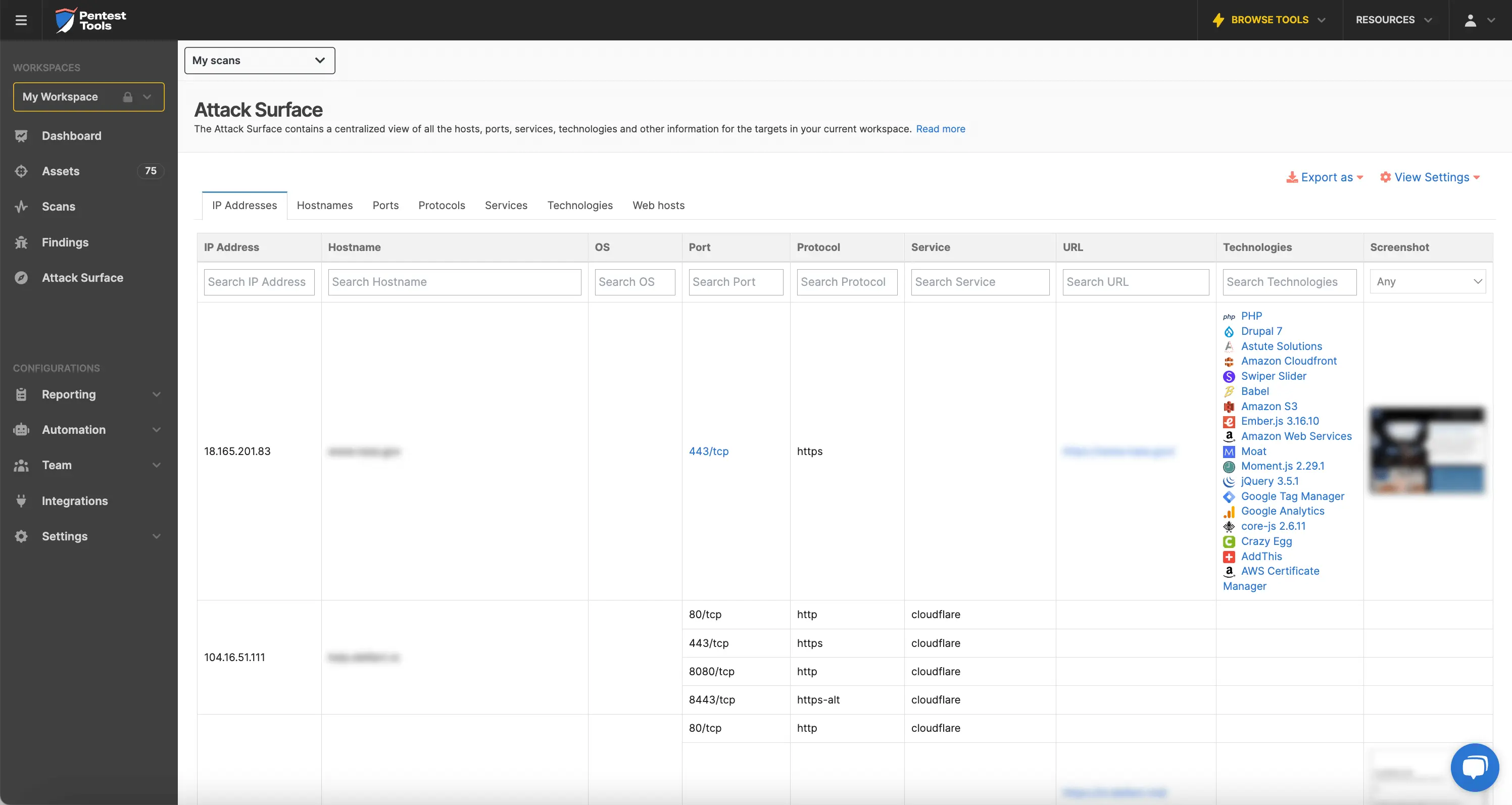 Detect web technologies and spot outdated network service versions
Big picture view

Every new scan automatically updates your Attack Surface with fresh details about your target's technologies and services - including their versions.

Improve decision making

Visualize and filter technologies the system is currently running (e.g. Wordpress, ASP.NET etc.). Easily drill down into specific components and services to find exposure indicators and high risk areas (e.g. outdated server software, open ports etc.).

Save time

Get an instant overview with minimal manual work and no time spent aggregating data from multiple sources.
Reduce your attack surface based on reliable, up to date data
Always have accurate, up to date visibility into the most vulnerable parts of the system in a flash.
Running a constant cycle of vulnerability scans with the platform enriches and expands your Attack Surface view. Use it to identify risky remote entry points and prioritize decisive, data-driven actions that reduce the target's exposure to cyber attacks.
Start using the platform today
Unlock the full power and features of our platfom! Compare pricing plans and discover more tools and features.
Use cases
4 ways to use the Attack Surface view
Turn network and service insights into actionable data

Identify infrastructure entry points an attacker might leverage to compromise the target using data about its technology stacks, service versions, and open ports.

Prioritize actions to reduce exposure to attacks

Identify which parts of the system are most vulnerable (e.g. servers, websites, databases etc.) and reduce security risks through decisive actions (e.g. closing ports, retiring unused services etc.).

Assess how much work a pentest might involve

Get a quick overview of the scope of your future pentesting engagements and reduce your guesswork with zero effort. Alternatively, compile more accurate budget proposals for internal projects.

Understand how the attack surface evolves in time

Use the Attack Surface to manually observe when, for example, new open ports appear or when server-side software becomes outdated. Run regular scans with Pentest-Tools.com to keep the data up to date and accurate.
Key risks you can diagnose using the Attack Surface
Outdated, exploitable server software

Data breach by exploiting unpatched vulnerabilities.

Open ports (that shouldn't be publicly accessible)

Reveal sensitive data about the network infrastructure.

Internal network services exposed on the public network

Confidential data exfiltration by brute forcing weak passwords.

Old and forgotten web technologies

Malicious users' unauthorized access to the sensitive data those web applications process.
Developed for
Pentesters

Who lack the time to develop their own discovery modules

Network security specialists

In charge of security risk assessments

DevOps teams

Tasked with preventing security gaps in web apps

Developers

Who understand and manage application security risks

Pentesters

Looking to preview the scope and work for their future engagements

Business owners

With a knack for security as a core performance metric
FAQ
Common questions
Currently, the following tools generate data for the Attack Surface: Website Recon, Website Scanner, TCP Port Scanner, UDP Port Scanner and OpenVAS Scanner.
We plan to add data for other tools and scanners at Pentest-Tools.com in future iterations. Keep an eye on our changelog, blog, and on our LinkedIn page to be the first to know when we do! You can also explore more details in the dedicated article in our Support Center .